Invitation to ELCT, Mbulu Diocese:
(Published 08.06.2010)
ELCT and HDC: a shared vision
HDC Ltd and ELCT Mbulu Diocese had, to our knowledge, no dispute in 2006 about the way HDC Ltd was organized and how it operated. The Bishop participated in the Board Meetings of HDC Ltd and took part in the handing over of the properties from the Liquidator to HDC Ltd in December 2005.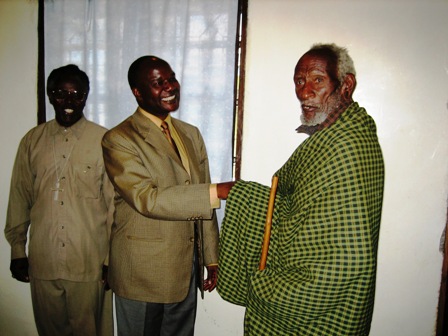 The picture is from the official handover of Central Maintenance Service Center (CMSC) to HDC Ltd. in December 2005. From left: Bishop Zebedayo Daudi, District Commissioner and a "village eldest".
It is unfair and unfortunate that the ELCT Mbulu Diocese, as the owner of HLH and employer of some of the individuals involved in the illegal physical overtaking of the properties, became part in a case still pending in the Courts. The root of the conflict and the ones responsible for the actions causing the court case are known Norwegian citizens; the same persons who recently tried to take control over HLH.
The fact that ELCT Mbulu Diocese and HDC Ltd shared a vision of what to achieve at Mulbadaw is by itself a foundation for revising and developing a new vision about how to work together to achieve this vision.
HDC Ltd – results 2006
HDC is a registered Tanzanian company that legally can own and manage both the Mulbadaw farm and CMSC. Gross profit of HDC's production at the Mulbadaw farm before depreciation and tax was at 1.14 million NOK (about 230 M TShs) in 2006. We both can and will do it again if given the opportunity.
Plan of operation - HDC Ltd
The HDC strategies and plan of operation was one of the documents submitted by HDC to the Liquidator and to the Prime Minister prior to signing the Purchase Agreement of 11th February 2005. It was guiding HDC Ltd in its operations from the same date.
Below is a summary of the activities that were in operation in 2006 and which HDC Ltd is prepared to resume and develop once the properties again are available for HDC Ltd.
Invitation to shared responsibility
I assume that ELCT, and perhaps other stakeholders, wants to share responsibilities for owning and operating Mulbadaw Farm and CMSC by taking shares in the company and taking a position in the Board having responsibility for decisions. The responsibility for the loan in the Norwegian bank financing the purchase might be one of the main issues for a new Board to consider; if an agreement between the stakeholders or a decision in the courts should lead to a handing over of the properties to HDC Ltd again.
This is an invitation from HDC Ltd to ELCT, Mbulu diocese, to try to solve the unfortunate conflict and to secure good management of the involved properties.
Halvdan Jakobsen (Managing director of HDC Ltd)
Summary of plan of operation
HDC Ltd: objectives (what can we offer?)

Targets 2012

Remarks

Core activity: Production of grains; wheat, maize, sorghum, legumes.

3000-5000 tonnes

Equivalent to 3 200 tonnes of grain produced in 2006.

Facilitating income generation for neighbours to Mulbadaw, "jirani bora project"

200 families

Revival of project started 2006; facilitating micro-finance

Farmers in-service training:

| | |
| --- | --- |
| | - maintenance and use of farm machinery |
| | - soil conservation and management of natural resources on a farm |
| | - crop husbandry |
| | - dairy goats |

50 per year

In project outline of 2005.

Training programme to be developed in co-operation with local and national authorities.

HDC to assign a coach for each trainee; with follow up on trainees farm if so wished

Financial support to HLH and other projects under ELCT Mbulu

200 M TShs

The profit from farming cannot finance this; result before tax and depreciation in 2006 was 200 M TShs; see note 1 below.

Providing opportunities for students in secondary schools for income that can support their education; in particular for students from the area.

20 students annually

HDC Ltd offered in 2006 temporary jobs to a few secondary students during their school holidays; the income from this was crucial for their continued education.

Facilitating "intellectual tourism"; providing services for and income from students and researchers from abroad and from Tanzania looking for practical training or facilities for their special research projects

Capacity for groups of at least 20 persons to stay for longer periods; 20m TShs turnover

HDC Ltd provided in 2006 opportunities for about 20 students and researchers from Norway and Tanzania for short visits as part of their studies. See note 2 below.

Facilitating cash crop production in neighbouring communities

Establish a "hub" for neighbouring farmers

Further development of services established in 2006. See note 3

Facilitating crop research and development of dairy goat husbandry

Improving crop yields; 3 tonnes wheat/ha; income and improved nutrition from rearing dairy goats

Better varieties, improved crop management, improved soil fertility; water-harvesting; activities to be developed in co- operation with SUA and others – continuation of activities initiated in 2006.

Renovation, repair and services for tractors and farm equipment for farmers in the area; maintenance and service of road construction equipment

Re-establishment of some of the services once provided by CMSC

Establishment and management of forest, natural vegetation and pasture on area not used for farming. Water harvesting for increased productivity and for cattle and wildlife

1 400ha

"Green corridor": New project; investigating opportunities for CO2 capture and income from carbon funds; pilot project for similar projects in the area.

The purchase of Mulbadaw and CMSC is financed mainly by a loan in a Norwegian bank facilitated by the FoH (Foundation Friends of Haydom) in Norway. The income generation from the two properties shall over a period of 20 years pay down this loan.
When the model for financing of the purchases were discussed back in 2004, it was in a view of looking for sponsors that would come in such a way that it would benefit HLH; HDC Ltd would pay HLH an amount equivalent to the sponsoring of the loan in Norway. This model is viable and should be put into operation.
The network supporting Haydom in Norway has during the past also supported other development projects than the hospital, including agricultural and construction equipment donated to HLH. Renting such equipment combined with donations providing for replacement, and partly also for repair, can be a strategy for long term financial support to HLH and other projects under ELCT Mbulu.
The organization of the unit owning and operating the fleet of tractors, trucks and other equipment donated from Norway might need to be considered in co-operation with the donators. There might be a need to consider the organization in view of sustainability and registration according to Tanzanian laws and regulations, and in a view of optimizing this unit for the benefit of ELCT/HLH and local development. Probably collaboration with CMSC could solve the legal issues.
In 2006 HDC Ltd had researchers and students from Sokoine Agricultural University, SUA,Tanzania, The University of Life Science Aas, UMB, Norway and from Høgskolen i Oslo ("Oslo University College") and others. Groups of farmers from as far as Norway and Sweden came also to visit.
The feedback from participants encouraged the management of HDC to look into opportunities for improving on the facilities for what could be called "intellectual tourism"; people of all ages interested in learning about activities on the farms and in the surrounding communities. Some came to take part in research and development, e.g. the researchers from SUA and UMB developing and researching on dairy goats.
As a response to this and to a need of housing also other visitors; the management at HDC took initiative to repair and upgrade the main guest house at Mulbadaw and 6 wooden houses. Individuals from Mandal in Norway took initiative to organize and finance the upgrading of the wooden houses. Due to the unfortunate change in control of Mulbadaw and CMSC 12th August 2006, the project was stopped. HDC Ltd, given an opportunity to manage Mulbadaw and CMSC again in 2010, the project will be included in the HDC plan of operation.
The Guest House at CMSC has a unique setting and shall be included in a plan for upgrading all facilities with a potential for income generation from visitors. A tentative target for turnover from accommodation in guest houses by 2012 is 20 m T Shs; plans and investments to be made and adjusted to reach that target.
In 2006 a number of farmers in the area farmed kartam on contract. The inputs were supplied by the buyer of the oilseeds. HDC Ltd provided storing facilities for the inputs.
HDC Ltd and the buyer of the oilseeds were in 2006 discussing to improve and extend the services to the farmers wanting to participate in cash crop production by training and advisory services and soil cultivation on credit from the buyer. HDC Ltd shall again be willing to consider a role in facilitating income generation for farmers in the neighbourhood; including co-operation with e.g. companies and micro-finance institutions able and willing to advance inputs on credit against contracts of purchase.